Sailing and the ocean bring it with so many opportunities, but when at sea for more than a few days how does one keep fit? Also this then begs the question how do you get Sea Fit? Being strong in your body always starts with the mind, you have to want to get fit rather than feel it a chore! Your sailing adventures will only be enhanced if you take care of yourself and put in some hours to become sea fit.
Sailing as we all know requires a mixture of stamina, strength, agility with an added touch of hardiness. In days gone by the likes of Tilman and Shackleton did not have gyms or PTs to help with pre ocean fitness, their training was real life. I as a sailor also subscribe to this ethic. Granted a gym can assist in building strength and overall body fitness but what is does not give you is how your body and mind deal with elements under duress! Training outdoors pre a big sailing passage is key to getting ship shape. Different bodies require different approaches but one thing that has always worked for me is running and walking outdoors in ALL weathers, fitness in the elements!
Wherever I sail in the World I always take my running shoes. When I reach the shore on they go and off I go. Not only does this give your body a time to loosen out from the confines of a yacht but also it allows you some space from anyone else that may travel with you and most of all it is a great way to explore unchartered lands. You don't need all the gear.
Scally's tips to start running:
Shorts, tracksuit bottoms or whatever you feel comfy in, equally a top that makes you feel human and most importantly a good pair of trainers.
If you are new to running just start with ten minutes three times a week, build this up to 15 minutes the following week and so on. The aim is that after the sixth week you can run for 30 minutes, as slow or as fast as you like without stopping.
Please note don't go crazy at the start and put yourself off, instead consider how good you feel post a run and even if it is raining get out there.
Scally's onboard fit tips:
Squats, not pretty but great for small space work outs.
Squats are a great exercise to incorporate into your regime because they allow for many variations to work certain muscles. To get more out of your work out, try squatting to the side or adding weights to help work other muscles and increase strength.
Skipper's sit ups!
If you are the Skipper lead by example, if not get setting the trend, start with two sets of ten, then go to two sets of 15 then for three sets of 25.
Push ups on the foredeck.
Push-ups are a great way to stay fit on board. You could use a mess table, or try traditional push ups on the floor, adding variations to exercise and build strength for your upper body. If a standard push up is too much for you, lowering your knees is another modification you can take.
Burpees.
Burpees are good for working a range of muscles and training your core. Stand tall with your feet together, drop your hands to the floor, jump back to push-up position, raise hips, jump forward with your feet and finally, jump up so now you're back in the starting position.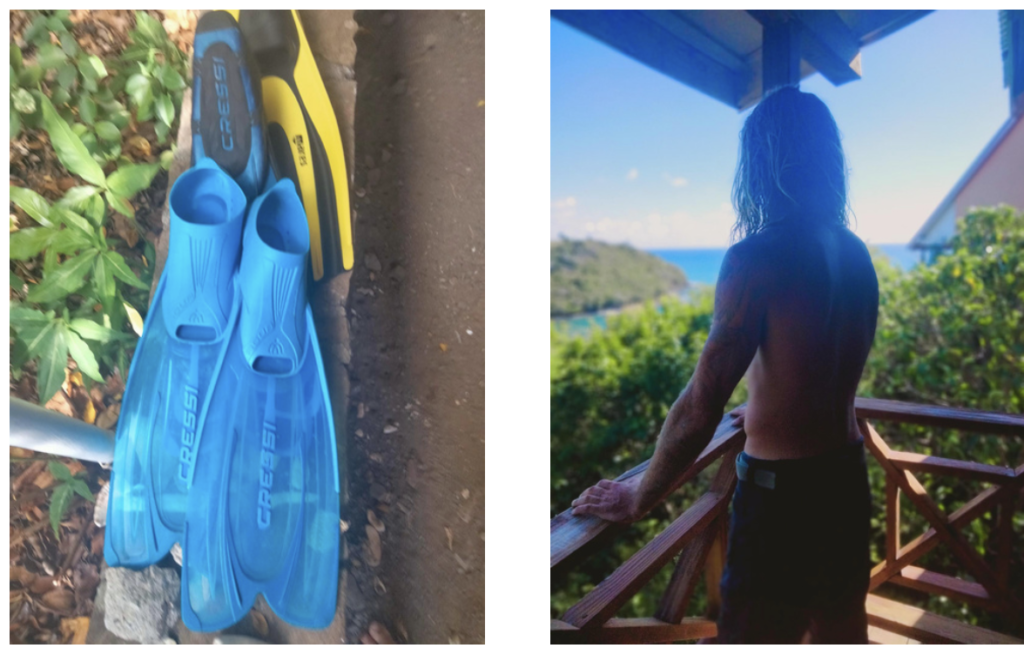 Other crew exercises could include:
• Planks
• Lunges
Stretches in the saloon – NO G & T INCLUDED
You've probably heard this before, but stretching is important, particularly on board. You don't want to do yourself an injury in the middle of the ocean and not be able to carry out your job properly. Stretching also enables your muscles to work effectively and increases blood flow to the muscle.
And finally, dancing around the galley. But avoid the pots and pans!
The key to all the above is that there is no right or wrong, but what is clear is using that you are "at sea" not to put in a few sits ups is not a good enough excuse!
You are dealing with the ultimate force with the ocean herself so why not prepare and condition yourself to be ready for all of her elements!
Ross Brady Sailing Scallywag