Ross Brady, also known as Sailing Scallywag, has a successful career in boat delivery, tuition and charters, and when it came to buying his own sailing boat it was a case of love at first videocall.
As summer 2021 came to an end I began to consider 2022 and the various opportunities and possibilities that the New Year would bring. My love of sailing and the ocean goes far beyond the hype of an event or the satisfaction of teaching a client to sail. My love of sailing is also a passion for the sea and all the peaceful, still and private moments that go hand in hand with that.
With this in mind, and my business building, the thought of a boat, my own sailing boat, grew. With that the goal was set, it was decided that Sailing Scallywag would have his own vessel. The questions were: what would she be, where would I find her and what did her key credentials need to be? With work taking me to foreign shores I was motivated to bring my search forward and with scouts in the right places, the challenge was set.
Key Qualities
I wanted a yacht that would take me to any latitude but with comfort and elegance. A craft that would entertain and teach a handful of clients if needed. A boat I could spend time with my family on, and create happy memories. It also needed to be a boat that would feel perfectly placed whether on a mooring in Fowey or sat in the Caribbean.
So my search began. Elegant but yet understated. Everything was pointing to one boat, a Tradewind. Whether a 33 or a 35 this design ticked all the boxes. Having spoken with some Sea Salts with many nautical miles under their belts, even without prompting this was the vessel that was repeatedly mentioned.
Now in La Rochelle and taking a boat to the Canaries for the Arc, my scouts were on the case. There had been a Tradewind on the market in Cornwall. With trepidation I enquired further; she sounded too good to be true. Having by now viewed a number of boats by videocall it had become increasingly apparent that a TW was Sailing Scallywag's destiny. On a cold November day a videocall was set up at Cornwall's Gweek Boatyard and there she was, on the hard and already looking fine. Viewing a potential boat in this manner is not ideal, neither is the location of the boatyard where the signal is intermittent.
But if things were meant to be this was not going to stop the purchase. My first instinct was yes. I could envisage many a happy day spent on this boat whether on the hard in the Cornish Mizzle or with clients at anchor in the Caribbean. With that the offer went in and 24 hours later, the confirmation (subject to survey) that she would be Sailing Scallywag's boat came through.
In January 2022 I finally met her face-toface, ready for a new adventure to begin. We will catch up with Ross again in a future issue of All at Sea.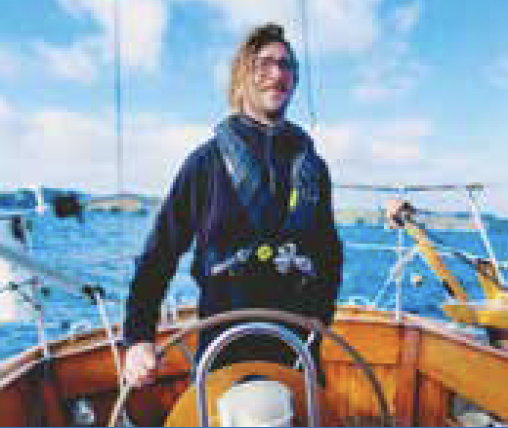 ABOUT ROSS BRADY, FOUNDER OF SAILING SCALLYWAG
From an early age, having grown up in Somerset, Ross's sense of adventure was born. After serving in the Royal Marines for six years Ross's next adventure took him sailing, where he fell in love with the ocean. Having qualified as a sailing instructor he set up his own business, Sailing Scallywag. Ross's passion for the sea and aim to bring sailing to all those who might never normally consider it is his driving force.